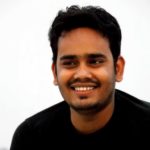 Hey! I am Gyanendu Shekhar, a reader, a dreamer, loves to learn new technology. I have completed M.Tech from IIT Bombay, Mumbai in Electrical Engineering. I have more than 3 years of experience in working with Microsoft .NET technologies, unity3d, Augmented reality (AR) and Virtual reality (VR).This is my personal blog and it merely represents some of my technical experience.
My hobbies involve reading novels and blogs; watching movies, am a big fan of Sherlock.
The following two tabs change content below.
Gyanendu Shekhar is a technology enthusiast. He loves to learn new technologies. His area of interest includes Microsoft technologies, Augmented reality, Virtual reality, unity3d and android development.
Latest posts by Gyanendu Shekhar (see all)